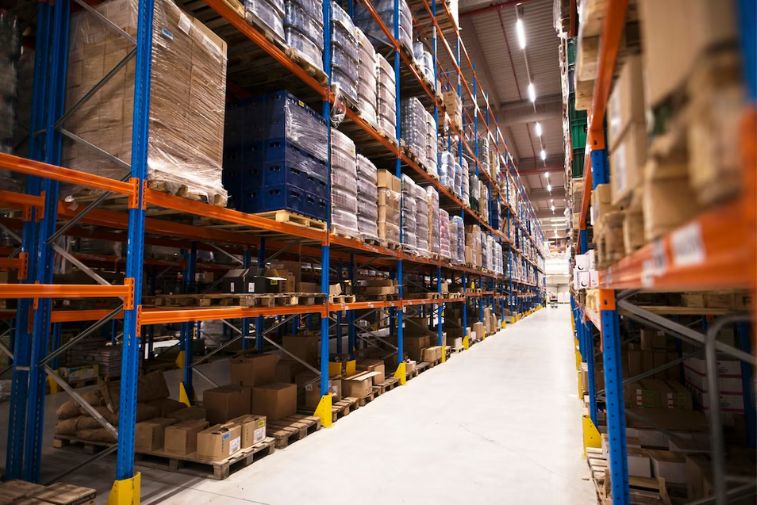 How To Implement Supply Chain Management System Without Mistakes - step by step guide
Discover the essential steps for successful supply chain management software implementation. Find the main advantages and read about how SCM system work in process.
May 25, 2023
10 min read
Cloud-based supply chain management (SCM) systems are more popular and more impressive than ever. As part of the overarching software-as-a-service (SaaS) industry, SCMs help businesses track projects from beginning to end. Above all, they provide detailed monitoring and visibility at each stage in the lifecycle. When your organization thinks about implementing an SCM system, it is essential to consider some crucial factors first. After all, not all supply chain management systems are created equal.

What is a Supply Chain Management System?
SCM systems are software platforms that are used by businesses to direct the movement of raw materials, finished products, and other goods. A chain system can help coordinate the procurement and sourcing process, aid in tracking orders, and contribute to improved order fulfillment and distribution. Typically, the best SCM systems feature a suite of collaborative tools so departments and individuals across the supply chain (manufacturers, wholesalers, retailers, etc.) can more easily contribute to the process.
With modern supply chain management and technology solutions, companies can change their business operations for the better. Combining procurement software and risk management processes with production planning and software and transportation planning, SCMs allow companies to track better financial transactions, cut supply chain costs, and improve warehouse management.
How Does the SCM System Work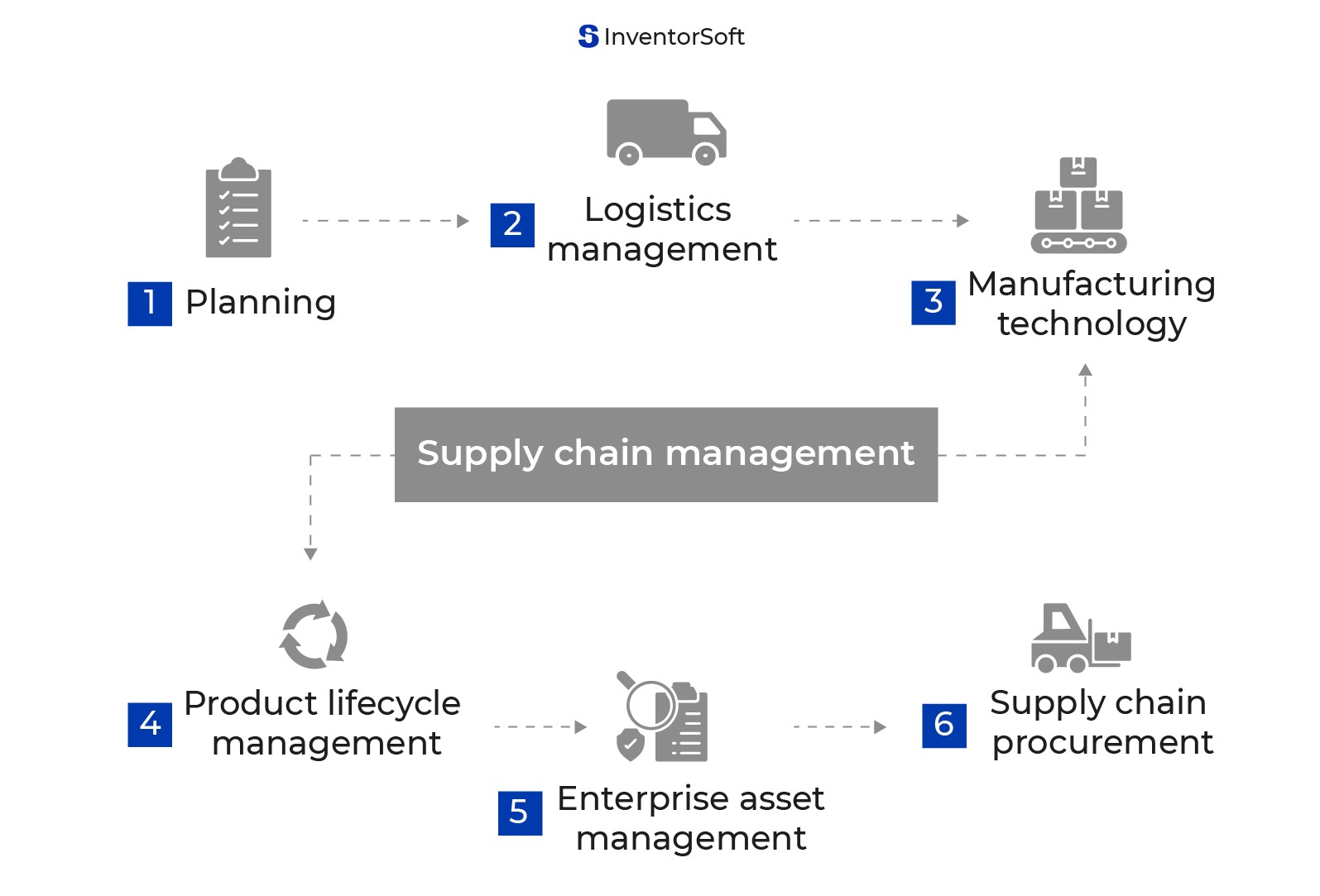 SCM systems work by providing a cohesive structure that improves function and visibility throughout the product journey. These platforms often boast built-in inventory management software, purchase order processing, demand forecasting, and more. They also aid in supplier relationship management to ensure maximum satisfaction of supply chain participants.
Most SCMs will also include bookkeeping functions to help clients better manage their finances. In recent years, cloud-based SCMs have become more popular as they improve scalability, better project tracking, and more in-depth monitoring solutions. Still, when it comes to success, having the correct supply chain management implementation process remains priority #1.
Main Advantages of Supply Chain Management Software

1. Clever Decision-Making
There's no denying data's importance in our modern, tech-driven world. SCM systems deliver priceless supply chain analytics so that business leaders and managers can make better decisions. With a reliable software solution, companies can forecast changes in market conditions, plan for surpluses and shortages, and identify areas of improvement. Imagine being able to execute lean manufacturing, improved production scheduling, and better supplier management.
Demand Management
The best SCM systems integrate demand planning and inventory optimization into their platform. Indeed, recent supply chain changes have made it more difficult than ever for companies to anticipate and react to demand changes. However, with demand management functions, leaders can evaluate the market easier, investigate consumer behavior, and optimize reaction times.
Quality Control of Work
SCM systems enable businesses to exercise greater control over the logistics of goods while helping to manage supplier interaction. If any non-compliant behavior occurs in the supply chain, companies can see it and react appropriately. SCM platforms also include data analysis functions, so managers can better approach supply chain performance management. This sort of quality assurance is ultimately vital to process improvement.
Productivity and Efficiency
One of the most basic functions of an SCM system is to boost operational efficiency and productivity. It does this by providing managers with real-time insight into their supply chain's various functions. In turn, this reduces the chances of delays or disruptions. Though an SCM cannot eliminate delays entirely, it can aid in the implementation of emergency backup plans to reduce the impact of the slowdown. Imagine working toward sustainability by combining vendor management software and transportation optimization techniques with warehouse management software.
Cost Savings
Like any other complex system, supply chains must be continually optimized so that companies can avoid financial risk. From delivery delays to order fulfillment software errors, every little mistake can end up compounding a business's overhead costs. SCM systems improve cost reduction by helping managers control inventory, organize warehouse operations, and automate wherever possible.
Supply Chain Collaboration Possibilities
Like the flow of products, the flow of information greatly contributes to the success of any supply chain. SCM software facilitates this process across all supply and delivery departments. This ensures everyone has access to the most current data, resulting in streamlined operations.
Logistics Management
Logistics planning and shipping play a huge role in the overall success of a supply chain. Whenever possible, companies should endeavor to find the most efficient transportation options for each type of product. With an SCM system at their side, managers can generate savings by optimizing point-to-point movements while also maintaining their relationships with operators and drivers.
Business Balance
In many industries, the supply chain is most or even all of what the operating business does. For this reason, even small disruptions can threaten the entire enterprise as well as all of its various partners. The solution is to implement an SCM platform that allows you to identify and mitigate risks while constantly striving for supply chain optimization. This creates a sense of balance in the business, providing a foundation for further improvements.
What You Need to Know Before Starting Implementation of SCM
Before getting started with supply chain software development services, it's important to determine your short and long-term business goals. The clearer your vision for your company is, the better your chance of implementing the right SCM model. Developing this vision typically means setting objectives, performance metrics, and goals that are not only reasonable but as well-defined as possible.
It's important to remember that those companies boasting superior supply chain infrastructure often achieve above-average revenue growth. Proper supply chain management software implementation is critical to achieving that sort of success. That's why it's vital to take things step-by-step and ensure you give your team and partners adequate time to adjust.
The Major Steps of Supply Chain Management System Implementation


Conduct an Internal IT Audit
The first (and potentially most important) step of implementing a supply chain management system is conducting an internal IT audit. This involves taking time to assess how different teams (sales, inventory planning, production, etc.) gather and utilize digital data. There are several important factors to consider during the audit, including what sources of data you'll connect to your SCM, whether there are any data silos that need to be eliminated, and what existing systems will require updates before they can be properly integrated.
Onboarding Employees
The next step is to familiarize managers, operators, and vendors with the new system. It's a good idea to first explain why the old system was outdated and how the new system can improve operations. Remember, all key staff members need to be familiar with the new system's capabilities if they're going to use it effectively. That's why you must communicate regularly during the onboarding process. You may also want to consider augmenting the IT staff via a third-party development company to simplify the process. In the end, the goal is to reduce or potentially eliminate any disruptions that might occur during the switchover.
Choose the Right Technologies
Choosing the right technologies is crucial to the overall success of your SCM initiative. For instance, will be using a SaaS (software as a service) product or an on-premise system? How many servers will you require? Do you have the necessary infrastructure to support it? What development stack will you be constructing the platform on? Would it be better to outsource development or build the system in-house? Take time to make these decisions and weigh the consequences, even if it slows down the process.
Create an Integration Roadmap
Choosing the right vendor for your supply chain implementation will enable you to track and analyze your entire supply chain more effectively. This can give you a competitive advantage by helping you overcome obstacles and optimize your supply chain from start to finish. But to get a comprehensive view of the journey, you must ensure the SCM you build or select integrates with the systems used by your clients, vendors, etc.
And like you took the time to explain the new system to your employees, you also need to communicate with your partners and give them adequate time to adopt the new system. Remember that data is the key here. Therefore, your ability to gather data from your partners will determine how much you get out of your new SCM. If you can capitalize on the increased visibility and data-driven forecasts, you can create smarter and more durable short, medium, and long-term plans aimed at boosting value.
Start Early Testing and Collect Feedback from Your Users
In the supply chain management software implementation process. Early testing is very important. After all, you want to ensure it's the right fit for your operation before you see the process through to the end. Also, make sure to involve key staff at all stages, including preparation. As you move forward, gather feedback from various stakeholders and use that information to refine the system before the official launch. Even after implementation, it's essential to continuously assess the new systems' functionality and stability. Finally, be prepared to play the "long game." Proper implementation can take months, but the rewards are well worth it.
How Can the InventorSoft Help You to Implement the SCM System?
Building a customized SCM system from the ground up is a great way to revitalize and improve your supply chain operations. After all, many on-demand SaaS platforms lack the versatility to cater to every business's unique needs. Fortunately, working from scratch does not mean that you need to build a strategy yourself.
InventorSoft can collaborate with you, determine your specific needs, and then put together a dedicated team on your behalf. Our team has the knowledge and experience to facilitate the development of a bespoke SCM system designed to help you and your business expand more quickly and efficiently. All the while, we'll provide you with frequent updates and valuable insights so you can track the SCM journey through every stage.
Have questions about supply chain implementation or logistics software? Feel free to reach out here. We can handle supply chain software development services for clients of all types and sizes.
Related articles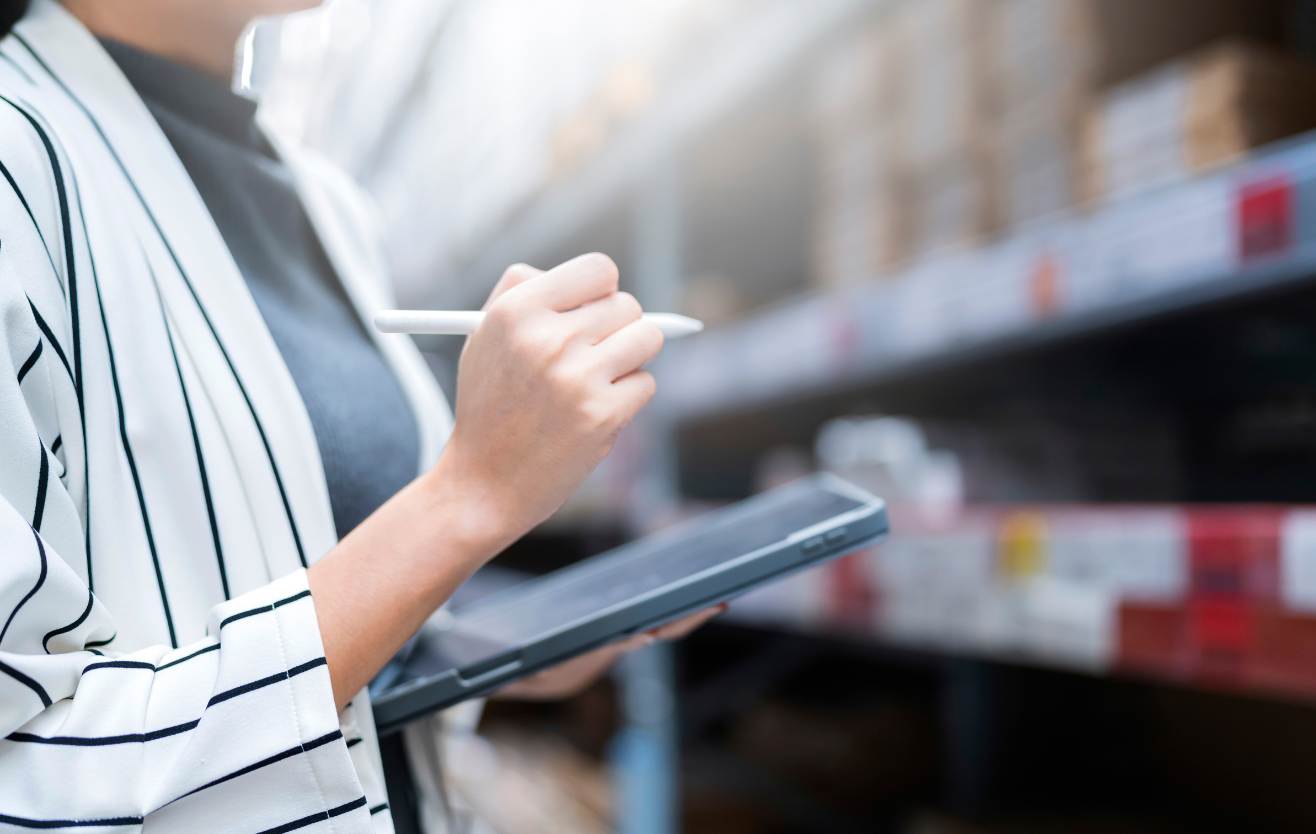 Must Have Inventory Management System Requirements And Features
Read about must have inventory management system requirements and features which can transform your business operations and increase your efficiency to a new level.
Jun 29, 2023
13 min read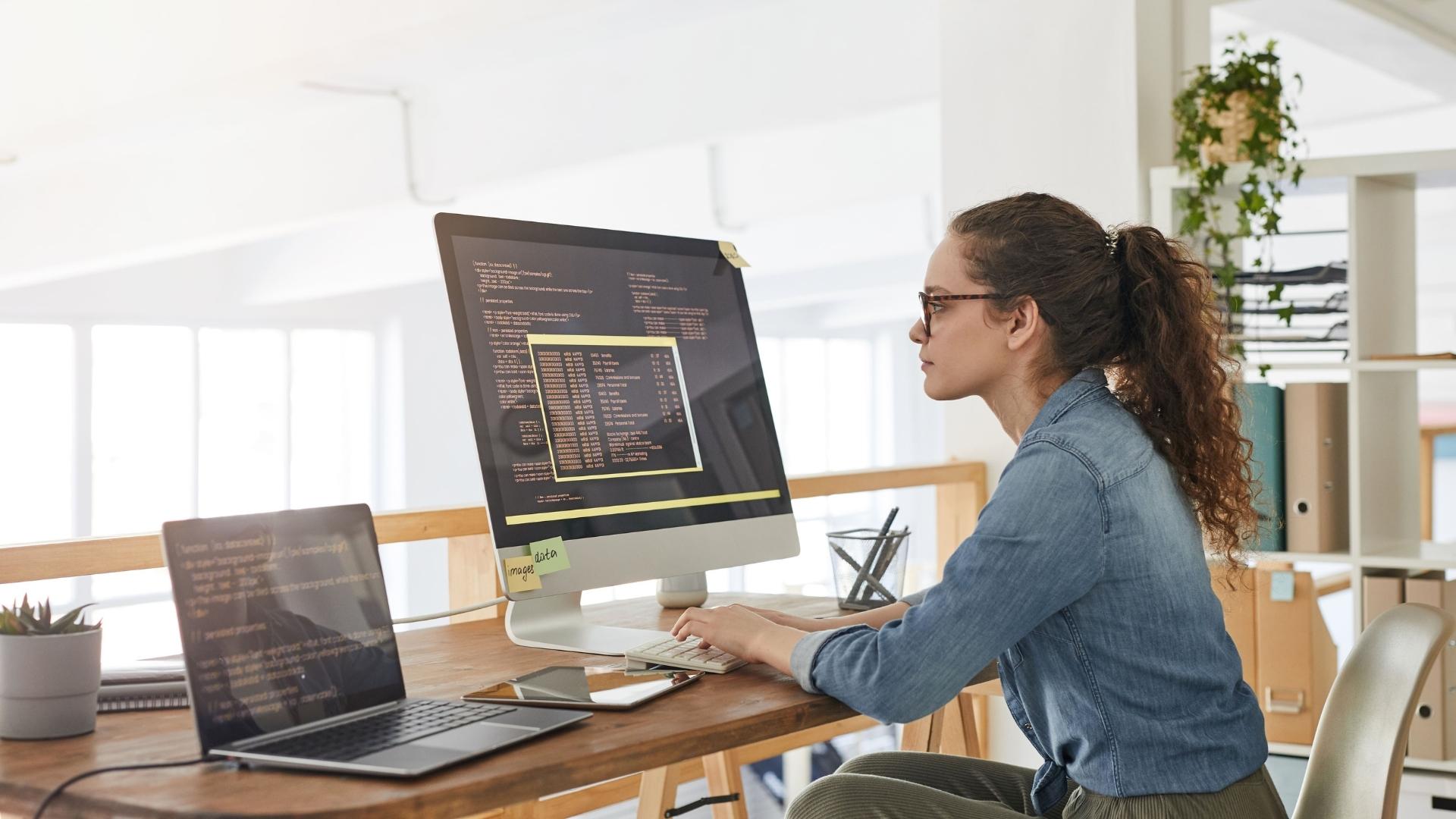 Top 10 Advantages of Microservices
Read the most useful info about the advantages of microservices, how to move forward with this technology, and some examples in the practice.
Sep 22, 2022
9 min read
Features and benefits of WebSocket
Features and benefits of WebSocket. Click here and learn more.
Mar 25, 2020
2 min read
Table of contents
What is a Supply Chain Management System?
How Does the SCM System Work
Main Advantages of Supply Chain Management Software
What You Need to Know Before Starting Implementation of SCM
The Major Steps of Supply Chain Management System Implementation
How Can the InventorSoft Help You to Implement the SCM System?