Fintech Software Development Services
Inventorsoft is one of the leading Fintech companies, creating state-of-the-art Fintech solutions that help transform your business. We offer a range of services that can help enhance any company's fortunes.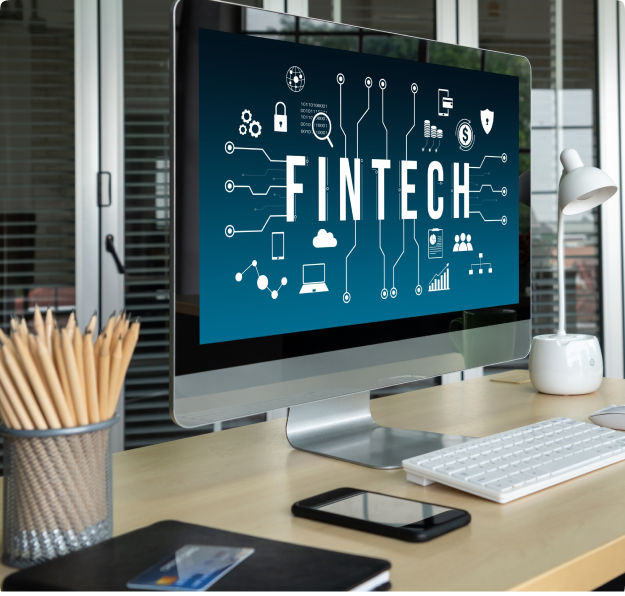 We Provide Exceptional Customer Experience with Our Fintech Software Development Solutions
Our applications make it easier for you and your clients to make big financial decisions.
A range of banking solutions which are easier and more convenient to use than traditional banking methods.
Benefit from powerful tools that help automate your processes.
Our fintech application development team will create innovative technologies that help you gather financial data on your clients.
Fintech Development Services We Offer
The team at Inventorsoft are experts in creating fintech software development projects made to order. Below are just a few of the services we offer.
Custom Fintech Software Development
The fintech industry is an umbrella term for technologies found within the financial ecosystem. Such technology includes software platforms offering numerous benefits, like being quick and easy to use and providing financial sector businesses with analytical data.
Fintech Payment Solutions
The easier it is for customers to pay you, the more sales you will make. Our Fintech software development services help make financial transactions quick and seamless.
Fintech UI/UX & Web Design
Your website is a portal through which clients can find information and do business with you. Our financial software developers create state-of-the-art websites that will impress your clients and encourage them to do business with you.
Digital Banking
As a leading Fintech development company, our fintech software developers can create easy-to-use digital mobile banking solutions that integrate with other technologies for added convenience and functionality.
Investment Management
Investors need access to information and tools to make the right decisions. Our fintech development team will create investment management solutions that help investors leverage their capital.
Personal Finance
Our personal finance solutions help you manage your expenses and budget for monthly outgoings, etc. Our software also includes payment solutions and online banking, making it easier to send or receive mobile payments.
Trading & Exchanges
Successful traders need up-to-date information to act on when the moment is right. Our fintech developers create useful software solutions that give traders access to all they need for effective wealth management.
Data Analytics
Analytical platforms give users access to useful information that helps them understand their clients and processes better. They can use this data to refine their services, improving customer satisfaction and increasing revenue.
Our Fintech Software Development Process
As a leading fintech software development company, we have developed processes to ensure we get the best results. We follow the same procedures whether it's fintech mobile app development or any other service.
Deep Research & Analysis
Delivering a bespoke service for fintech startups and other businesses involves conducting a thorough analysis of your business and needs. Our research also involves deciding which technologies best suit your needs.
Setting Up the Project
With the research complete, it's time to start working on the project. At this point, we will value your feedback to help us shape your project to your requirements.
Project Development
Fintech application development involves building the fintech app itself using information gathered so far.
QA testing
Our mobile apps and other software are thoroughly tested. This is also an opportunity to gather more feedback from you regarding features etc.
Project Deployment
The project deployment stage involves taking your product live so you can start using it. During this stage, we will ensure everything is up and running as intended.
Support & maintenance
Our work is still ongoing after we deploy your product. We will continue fixing any bugs, while we will also install updates and new features as needed.
Choose the trusted experts for your business.
Our Tech Stack
Our custom healthcare software development processes include various key stages that help to ensure we deliver software solutions of the highest standards – every time.
Why Should You Choose InventorSoft as Your Fintech Software Development Company
Inventorsoft will allocate you a dedicated development team that has the right skill sets for the task. You should also choose us for other reasons, including the following:
Expertise
Inventorsoft is a Fintech software development company with deep experience in the financial industry. Our knowledge ensures we deliver complex solutions that will help your business overcome its challenges.
Transparency
Inventorsoft offers complete transparency throughout our financial software development process. As such, you can be confident of a professional platform created to the highest standards.
Quality Recruitment Selection
Inventorsoft recruits only the best talent available. This means you can be sure your product will work quickly and reliably with all the features you need.
Adapt to customer requirements
We know every customer has different obstacles to overcome, and we will adapt accordingly. Our team will take your requirements on board to create a financial services product tailor-made to your needs.